Corporate Strategy and Sustainability
The main target of ProSiebenSat.1 Group is to grow profitably and sustainably. In doing so, we involve the interests of our stakeholders and pay attention to our employees and their concerns. We are convinced that commercial success can be measured not just by financial results, but also by how we fulfill our social responsibility. By 2018, ProSiebenSat.1 intends to increase its revenues by EUR 1.85 billion to around EUR 4.2 billion compared to 2012 and recurring EBITDA by EUR 350 million to around EUR 1.1 billion. With revenue growth of 13.4 % to EUR 3.261 billion, 2015 was another record year for the Group.
Directly generated and distributed economic value

EUR m

2015

2014

| | |
| --- | --- |
| 1 | Adjustment of underlying net income for financial year 2015 due to the retroactive adjustment of changes in the fair value of put options and earn-out liabilities in the second quarter of 2016. For further information, please refer to the half-yearly financial report 2016, page 5. |

Revenues

3,260.7

2,875.6

Gross revenue profit

1,496.8

1,315.3

Personnel expenses

–477.3

–391.7

Wages and salaries

–422.9

–348.4

Social security contributions and expenses for pensions and other employee benefits

–54.5

–43.3

Other operating expenses

–7.6

–4.8

Other operating income

24.7

27.9

Income taxes

–207.7

–178.6

Consolidated net profit (after non-controlling interests)

390.9

346.3

Underlying net income

464.21

418.9

Dividend payments

386.2

341.9

Cash flow from investing activities (continuing operations)

–1,521.7

–1,148.4
We rely on a diverse portfolio with diversified sources of revenue. Our business is based on three strategic pillars, that also constitute the reporting segments:

Our segments encompass the entire value chain from development and production of content, through aggregation and marketing, to distribution via TV and digital channels. In the Broadcasting German-speaking segment, we report on successful station brands such as SAT.1 and ProSieben and their distribution in HD quality. The extensive digital activities are brought together in the Digital & Adjacent segment. With our digital entertainment offerings, we cover all relevant value-adding streams via the selling of advertising space, pay-per-view videos and subscription models. At the same time, ProSiebenSat.1 increases the overall reach of its TV and digital platforms via external distribution partnerships. However, the megatrend of digitalization is not just changing media use. Consumer behavior is also in flux, and online retail is growing dynamically. The internet has established itself as a sales channel and generates synergies with TV advertising at the same time. This is why we are systematically expanding our portfolio with e-commerce portals that extend our value chain and are suitable for marketing via video advertising on TV. Red Arrow Entertainment Group complements the value creation in the core business of TV: Red Arrow develops, produces and distributes TV formats for the stations of ProSiebenSat.1 Group and for third-party companies and is consolidated in the Content Production & Global Sales segment. As of July 1, 2016, the segment structure of ProSiebenSat.1 Group was adapted to the dynamic growth of the digital business and the new Executive Board departments. The previous Digital & Adjacent segment was split into two individual segments Digital Ventures & Commerce and Digital Entertainment. The Broadcasting German-speaking and Content Production & Global Sales segments persist.
Attractive programming is one of the most important requirements for ProSiebenSat.1's long-term success with TV viewers, users of digital services and advertising customers. In order to secure a long-term supply of programming for the Group, the Group maintains close dialog with domestic and international film studios, as well as film and TV producers. ProSiebenSat.1 Group has long-term agreements with nearly all major Hollywood studios as well as numerous film companies. When purchasing products and services, we attach importance to obtaining market conditions, meeting quality requirements and delivery times, minimizing risks, and adhering to ethical and ecological standards.
The good supplier relationships with the film industry, the high reach and the many years of experience in video marketing are the basis for ProSiebenSat.1 Group's success in the TV business. We want to achieve our goals and make our vision of becoming a broadcasting, digital entertainment and commerce powerhouse a reality by expanding our strategic growth areas in the digital and production business.
We are convinced that companies that identify sustainability-related risks and opportunities at an early stage can perform better on competitive markets. We see sustainability as an approach for ensuring the holistic and lasting development of our Group's economic, environmental and social performance.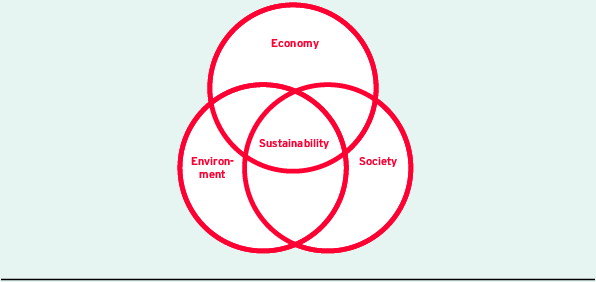 In the short to medium term, we want to enhance our sustainability management and the reporting processes in the Group and increase the transparency regarding sustainability aspects. We have therefore defined concrete measures that we will implement in 2016 and 2017. For instance, we see the improvement in the quality of our carbon footprint on all levels of the organization as an ongoing process to ensure comprehensive and open communication and fulfill the requirements of our stakeholders.