Putting a Stop to Violence
It happens at home, behind closed doors, with no witnesses but the children who directly or indirectly see, hear, and feel its effects. Domestic violence remains a taboo subject. With the TV movie Die Ungehorsame (The Disobedient Woman), SAT.1 brought this issue out into the light of day and was rewarded.
At last, after three months in a women's shelter, Monika has moved into her own apartment. It's a great place — and an even greater feeling to have made it here. With 38 years of an increasingly hellish marriage behind her, she has finally found peace. "Violence crept into the relationship. And when he started drinking, things got worse and worse. All I heard morning, noon, and night was 'you bitch,'" she says. She was completely cut off from family, friends, and neighbors. In fact, she first learned of her own mother's death in the newspaper. "No one came by anymore because they couldn't stand the way he acted. I was totally isolated." She had had to give up her job following a bad accident. On top of the pain, there was the constant fear that he would "lash out" and attack her physically, potentially confining her to a wheelchair for the rest of her life. When another fight threatened to turn ugly, she finally called the police and dialed the number for the women's shelter she had already been carrying around with her for a long time.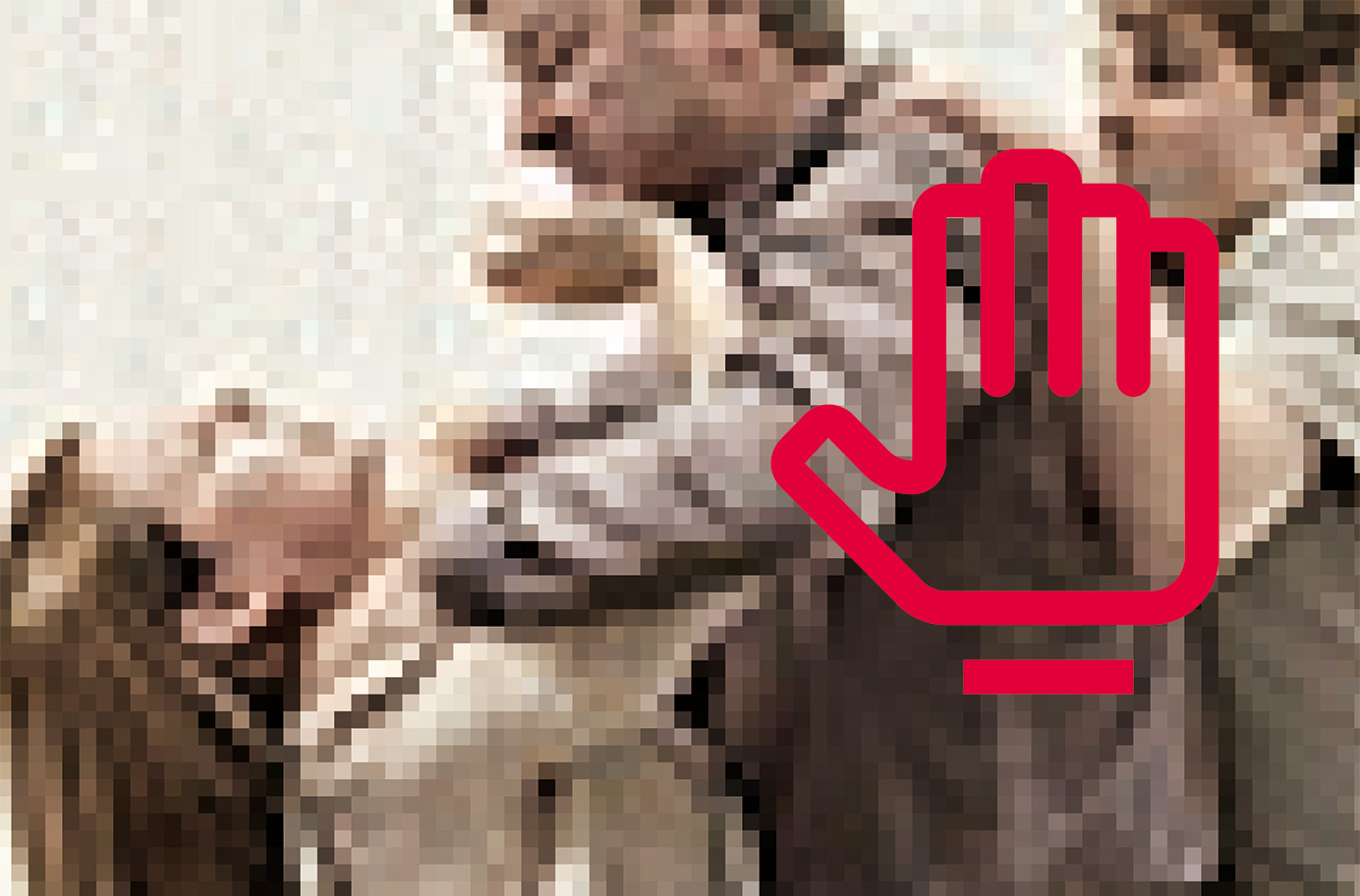 One in two women in Germany has suffered psychological abuse
It happens in suburban mansions as often as in housing projects. It affects all social strata, irrespective of levels of education. Domestic abuse is the most common form of violence in Germany and one of the biggest health risks faced by women around the world. One in five women in Germany has been physically abused by a partner and every second woman has experienced some form of psychological abuse. And yet, as a study published in 2014 by the European Union Agency for Fundamental Rights revealed, only 11 percent of women report these incidents to the police.
The inevitable question is: Why didn't you just leave him the minute it started? "Outsiders always think that ending the relationship is the answer, but there's no guarantee. Especially when there are children at home, it's incredibly difficult," explains Katja Grieger, psychologist and media spokesperson for the German Federal Association for Women against Violence (BFF). There are also very real dangers: the risk of getting killed increases fivefold during separations.
Isolation — losing touch with friends and neighbors
Miriam, too, is familiar with the question that's so often asked without a second thought, the question that dismisses as passivity and weakness all efforts to put an end to violence within a relationship. More than that, it's a question that ignores what it means to have your every move controlled, to be socially isolated, and — as is so often the case — financially dependent.
»NO ONE WOULD HAVE BELIEVED ME.«
Leonie (Felicitas Woll)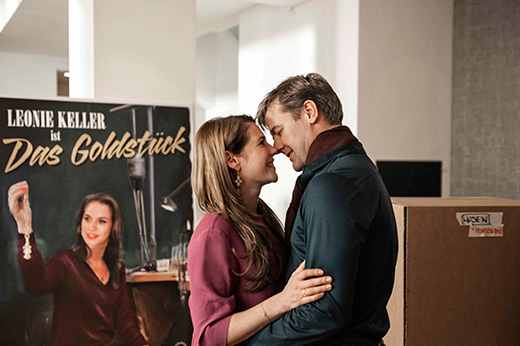 Die Ungehorsame
The gray garden gate closes softly on the eggplant-purple entrance that Leonie Keller loves, though her husband finds it "a little inappropriate": Right from the start of the SAT.1 movie Die Ungehorsame, the undercurrent of destructive relationship dynamics is palpable. The movie poster he has made for his bride as a gift when they move into their new home says it all: Her future role is the "Goldstück" ("little woman"), with himself, Alexander, as the director. Soon, even this moniker degrades into "horny slut." Scriptwriter Michael Helfrich explains, "The road to violence starts with depersonalization. When a woman is no longer regarded as a human being, self-restraint quickly falls by the wayside."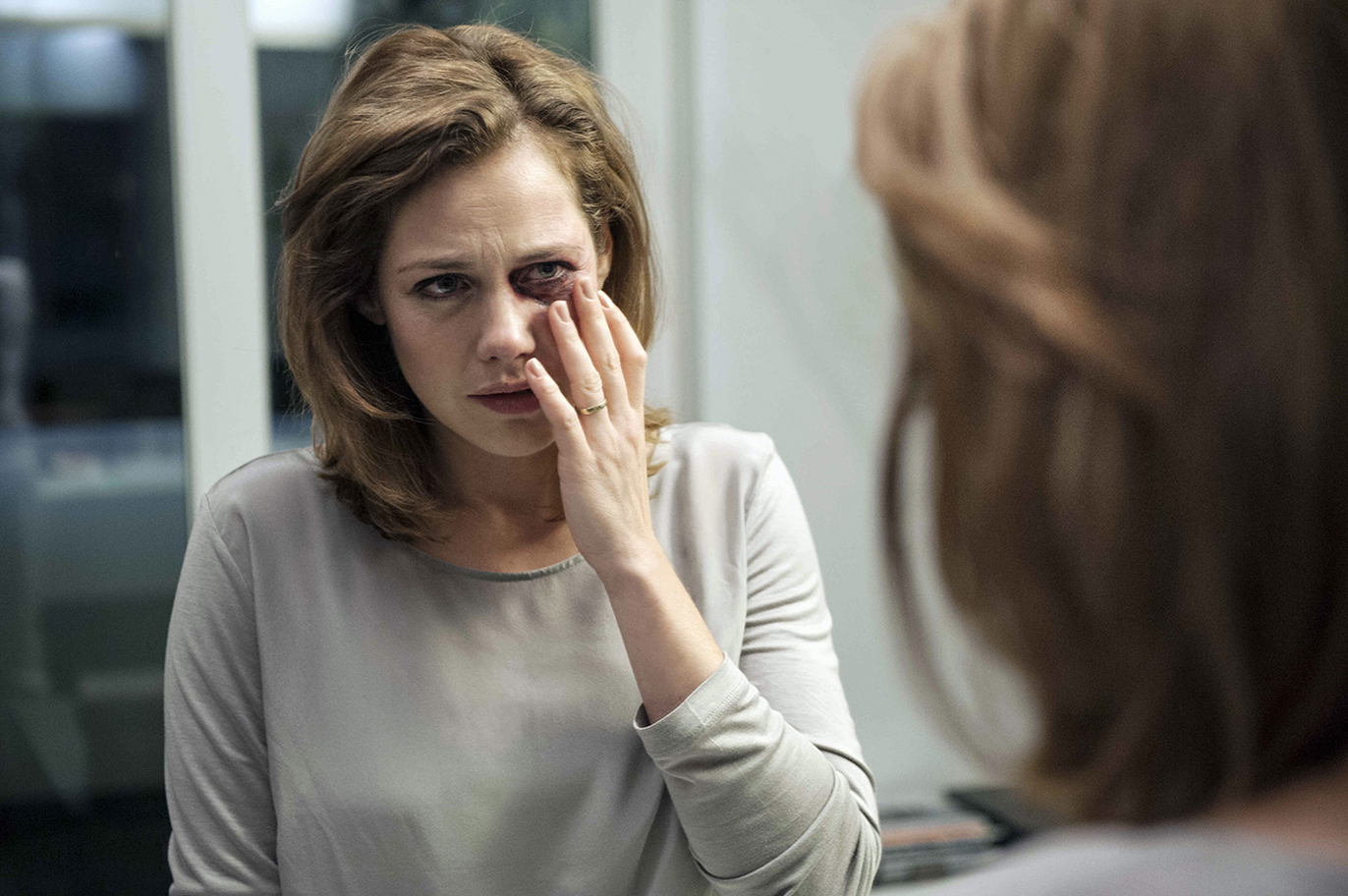 First aired in March 2015, Die Ungehorsame (directed by Holger Haase, produced by Ivo-Alexander Beck, Ninety Minute Film) continues to resonate powerfully with audiences. Helfrich reports that counseling and educational institutions such as the Faculty of Medicine at Hannover's University of Applied Sciences and Arts use it as a teaching aid. What he admittedly finds far more surprising is its immediate impact on people: "At the TV crime shows festival in Wiesbaden, a woman from the audience approached me and told me that the movie had given her the courage to leave her husband after 30 years of marriage."
The authentic dramatization of the topic has also garnered national and international honors. With a star cast including Felicitas Woll — whose performance as Leonie earned her the 2015 Bavarian TV Award — and Marcus Mittermeier, Die Ungehorsame was not only the biggest hit with viewers at the 2015 3sat audience award and the TV movie festival in Baden-Baden, but was also nominated for the 2016 Grimme Award and received a gold medal at the New York Film Festival in the category World's Best TV & Films.
She moved to Germany in 2008 on her husband's promise of love and a comfortable lifestyle. But "it was all lies from the start." The first time he hit her, she was two months pregnant. As multiple studies confirm, pregnancy and the birth of a child very often trigger abuse. "I wanted a divorce but my family talked me into staying," she says. When her second child arrived three years later, she had long since been forbidden contact with friends or neighbors. Humiliation and insults were an everyday reality. He "used force to do whatever he wanted to me," and dealt blows with his fists, feet, and a shoehorn. She defended herself and refused to let him dictate her self-worth. "Are you picking a fight?" she learned to ask — and then sent the kids to a neighbor.
»CONTROL AND DOMINANCE ARE AT THE CORE OF A VIOLENT RELATIONSHIP.«
BARBARA KAVEMANN
Many abusers are highly skilled at shifting the blame
The German Protection against Violence Act promulgated in 2002 enshrines the principle "If you strike out, you're out" and gives police the authority to expel abusers from a shared apartment. Sadly, the catchy slogan sidesteps the reality that violence against women by their partners does not begin with actual blows. "Both public debates and support systems for victims focus on physical abuse, which obscures the fact that control and dominance are at the core of a violent relationship," criticizes sociologist Barbara Kavemann, a professor at Berlin's Catholic University of Applied Sciences. Roland Hertel, a social worker and chairman of the German Federal Association for Work with Perpetrators of Domestic Violence, agrees that "far too much emphasis is placed on physical abuse. Even professional social services, authorities, and children's welfare offices don't approach psychological abuse with all the understanding and urgency they should." He adds, "If there's to be any hope of a change in behavior, it's crucial that action is taken very early on."
"No one would have believed me," Leonie says to her lawyer in the SAT.1 movie Die Ungehorsame. It's a statement that encapsulates an abused woman's fears. "Perpetrators are masters at trivializing and manipulating — not only their own environment but also the authorities," Hertel explains. "They can put on quite a convincing show, agreeing with counselors, coming across as well adapted individuals, and acting as if they only want what's best for the wife and children." They are also highly skilled at shifting the blame. Even Hertel was left speechless when he heard an abuser say, "Why does she keep doing that to me so that I'm forced to hit her?"
It's not rare for abusive partners to win visitation rights or custody. Ludwig Salgo is a Frankfurt-based law professor specializing in family matters. In his lectures, he can list innumerable controversial decisions by child welfare organizations and the courts — for instance, that "only" the wife was abused, or "I don't want to hear about any domestic abuse," as one judge told a mother. Salgo puts it in a nutshell: "The courts and the authorities as well as the most recent legislation in Germany fall far short of giving domestic violence and trauma the attention they deserve — not just when it comes to awarding visitation rights." Above all, the effects of living in a home where domestic abuse is meted out are not taken seriously enough.
In 2013, a nationwide counseling hotline was set up for abused women, which is also available to their families and friends. In the first year alone, over 18,000 counseling sessions were logged. Advertising the number on screen during the SAT.1 movie and in the trailers resulted in 450 calls connected with the broadcast. The service is operated by the German Federal Office of Family Affairs and Civil Society Functions. "Women need to know that they can get confidential help and support," stresses Manuela Schwesig, German Federal Minister for Family Affairs, Senior Citizens, Women and Youth. She believes movies such as Die Ungehorsame are vital to creating greater awareness about this taboo topic. "It's always a great comfort to know that others have been through the same ordeal and that what's happened to you is not your fault."
5
One in five women in Germany
has been physically abused by a partner

2
Every second woman in Germany
has experienced some form of psychological abuse

»WOMEN NEED TO KNOW THAT THEY CAN GET CONFIDENTIAL HELP AND SUPPORT.«

MANUELA SCHWESIG
Source: European Agency for Fundamental Rights
Every year, women's shelters have to turn away some 9,000 victims
Despite significant improvements to counseling and support structures, still more needs to be done. Today, the country is a long way from being able to offer every woman immediate access — unimpeded by red tape — to the protection of a shelter. Particularly in major cities and other highly populated areas, women's shelters are full to capacity, and often well beyond. Every year, some 9,000 women are turned away because facilities lack the space or finances to accommodate them.
Miriam was lucky. After a near-fatal attack, she and her children were immediately taken into a women's shelter. Through conversations with the staff and other residents, she began to see her way clear to starting an independent life. The name her children came up with to refer to their new safe haven says it all: the vacation house. <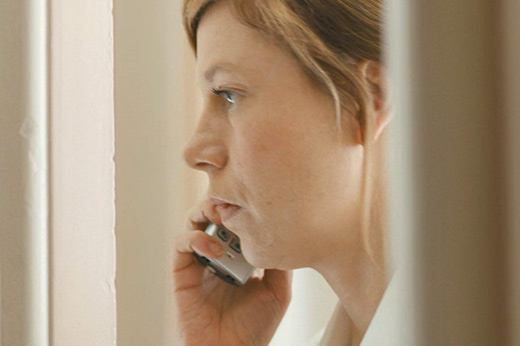 Taking the first step
Watching makes a difference: "Thanks to the collaboration with SAT.1 and inclusion of the hotline in reviews of the movie Die Ungehorsame, we were able to reach a great many abused women and people close to them," says Petra Söchting, head of the violence against women hotline. Advertising the number (08000-116016) on screen during the movie and in the trailers resulted in 450 calls to the hotline over a period of three days from women affected by violence and the people around them.
Operating for three years now under the auspices of the German Federal Office of Family Affairs and Civil Society Functions, this first nationwide counseling service dealing with all forms of violence offers free and confidential information and support via telephone, e-mail, and online chats around the clock and in 15 languages. In 2015, the service was contacted about 55,000 times — 11 percent more than in the previous year.