»Water is Dignity«
Clean water is a human right. Still, many people are careless with this precious resource. And yet, it doesn't take much for every one of us to live sustainably in our local environment. By encouraging people to "Save the Water," ProSieben's weeklong Green Seven initiative aims to motivate more people to start thinking about tomorrow … today.
Suddenly, the ground collapsed beneath Eli Raz's feet. "I fell downward, deeper and deeper. I thought I was being buried alive." When the dust lifted from the mass of rubble, he saw sunlight. But he was stuck—eight meters down in a sinkhole. Calling for help in the deserted area on the west coast of the Dead Sea would have been futile. His cell phone had no reception. Soon his kibbutz would miss him, hoped the geologist from Israel's Dead Sea & Arava Science Center. Hours later, he began to write his last words to his family on pieces of toilet paper. At last, they found him. The nightmare was over. The place where years ago tourists from all over the world filled beaches and campgrounds is now completely closed to the public. Enormous sinkholes litter the landscape. In 1990, 70 such craters had been identified, but by 2016, they numbered more than 5,500. The cause is the declining water level in the world's lowest lake at 429 meters below sea level. Each year, it drops by about a meter as its neighbors Syria, Lebanon, Israel, Jordan, and the West Bank draw out more groundwater than nature can replace. Freshwater dissolves salt deposits underground, causing the earth to collapse. "Each year, virtually 1,000 new craters form," reports Christian Siebert, geologist at the Hemholtz Centre for Environmental Research (UFZ) in Leipzig, Germany, who has been analyzing developments at the site for ten years now. "Living conditions and the socio-economic situation will deteriorate dramatically," he says.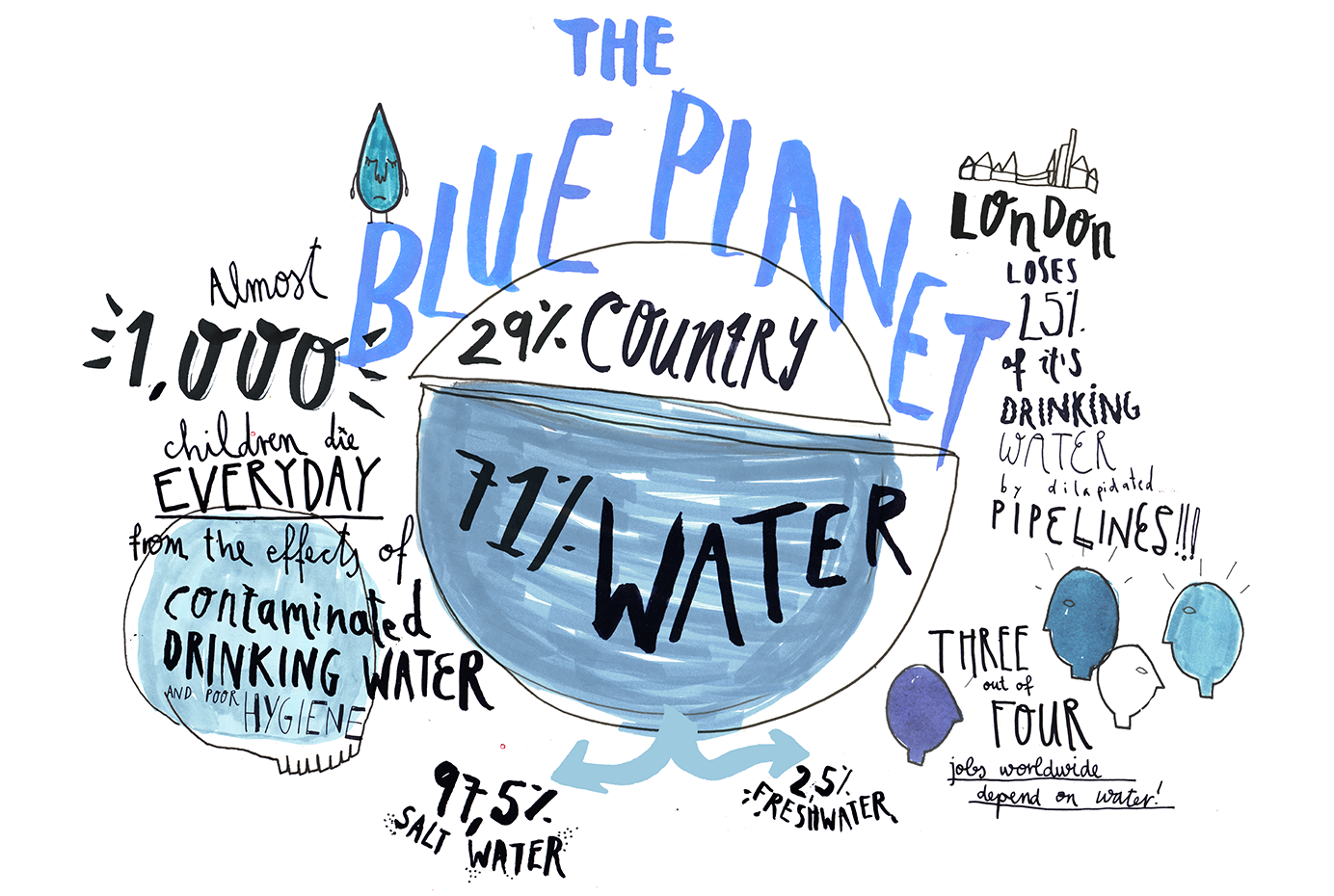 Global demand for water
55%
more drinking water will be required by 2050
7.4
billion: the world's population
in 2016

9.7
billion: the world's population
in 2050

Source: Stiftung Weltbevölkerung / Prognose UN
Everyone can take action to protect the environment
Water is a locally finite resource, a precious commodity. Two-thirds of the 7.4 billion people inhabiting our blue planet suffer from a lack of freshwater at least some of the time, and not just in countries geographically predisposed to drought, but in industrialized countries as well. Water supplies for the residents of major metropolitan areas such as London, Barcelona, and Mexico City run dry from time to time. The reasons include poor water management, global population growth, urbanization, climate change, and waste in agriculture and industry as well as both the private and public sectors. For instance, 25 percent of London's drinking water trickles away due to dilapidated pipes. In Mexico, this figure can reach 40 percent.
California experiencing worst drought in 1,200 years
"Save the Water" is the battle cry of the weeklong Green Seven campaign launched by ProSieben in summer 2016 to promote a change in thinking. Everyone can take action to protect the environment — and motivate others to act sustainably, as illustrated by the example of Tony Corcoran. The "water crusader" criss-crosses Los Angeles with his camera, videotaping prominent water wasters. Although California is still in the throes of what is already a five-year dry period, Hollywood stars regularly have their huge expanses of lawn watered with sprinklers and the water in their pools changed out. Corcoran publishes his videos on social media. "I am not trying to call people out. I want them to change the way they think," the scriptwriter explains. An entire army of "water paparazzi" now patrols the streets, regularly posting pictures of stars such as actor Tom Selleck. The fire hydrant in the adjacent neighborhood was tapped multiple times to water his avocado farm. Some celebrities, like Barbra Streisand, have learned their lesson from this public pressure. Since aerial photos of her villa in Malibu were published online, she has mostly retired the lawn sprinklers and installed rainwater cisterns and a graywater system, US media report.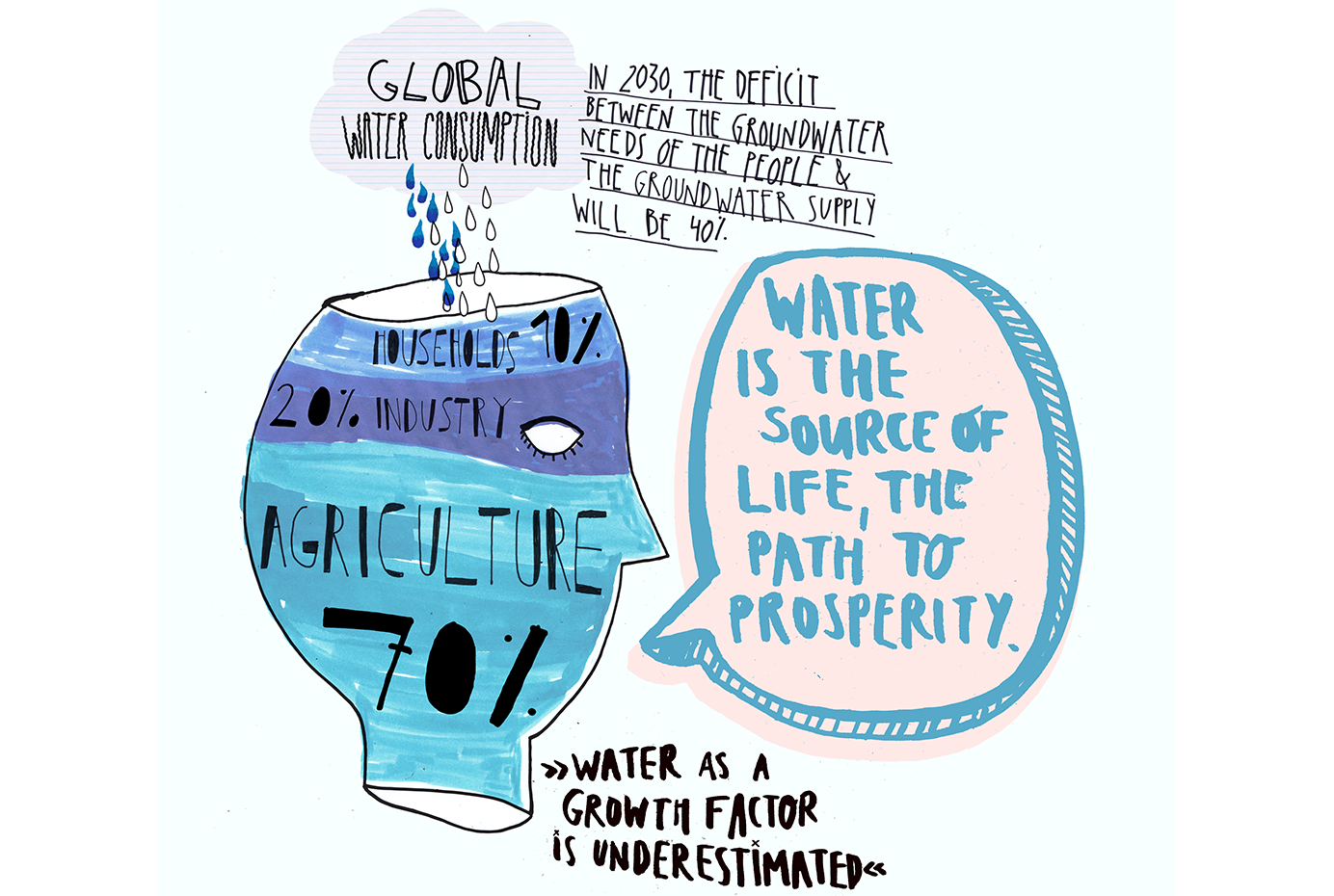 Only responsible use of this valuable resource can help to weather dry spells — in the southern United States, in the Middle East, and in central India, which is experiencing its worst drought in 20 years. Failed crops are forcing many farmers to go into debt in order to feed their families, and thousands in the state of Maharashtra have committed suicide because they saw no way out. It is not the weak monsoon but rather political mismanagement that is causing the misery, asserts Rajendra Singh, the 2015 recipient of the Stockholm Water Prize. "We have enough rainwater. If we store it and exercise discipline in using it, the water shortage will be over."
Green Seven
Once a year during the Green Seven initiative, ProSieben changes the color of its logo from red to green. During this week, environmental issues top the agenda to raise awareness of environmental protection and sustainability among young people in particular. In 2015, the call to action was "Save the Bees," training the spotlight on the threat to the bee population and mobilizing people to protect their ecosystems. "Save the Water" was the 2016 motto for the initiative launched back in 2009. This time, presenter Stefan Gödde of the TV show Galileo reported from locations including California, which for the past five years has been experiencing its worst drought in 1,200 years. "Putting environmental issues front and center for viewers and bringing problem areas into focus without pointing fingers — that's what Green Seven is about," Gödde states. "None of us are angels when it comes to how we treat our planet. But little adjustments can make a big difference."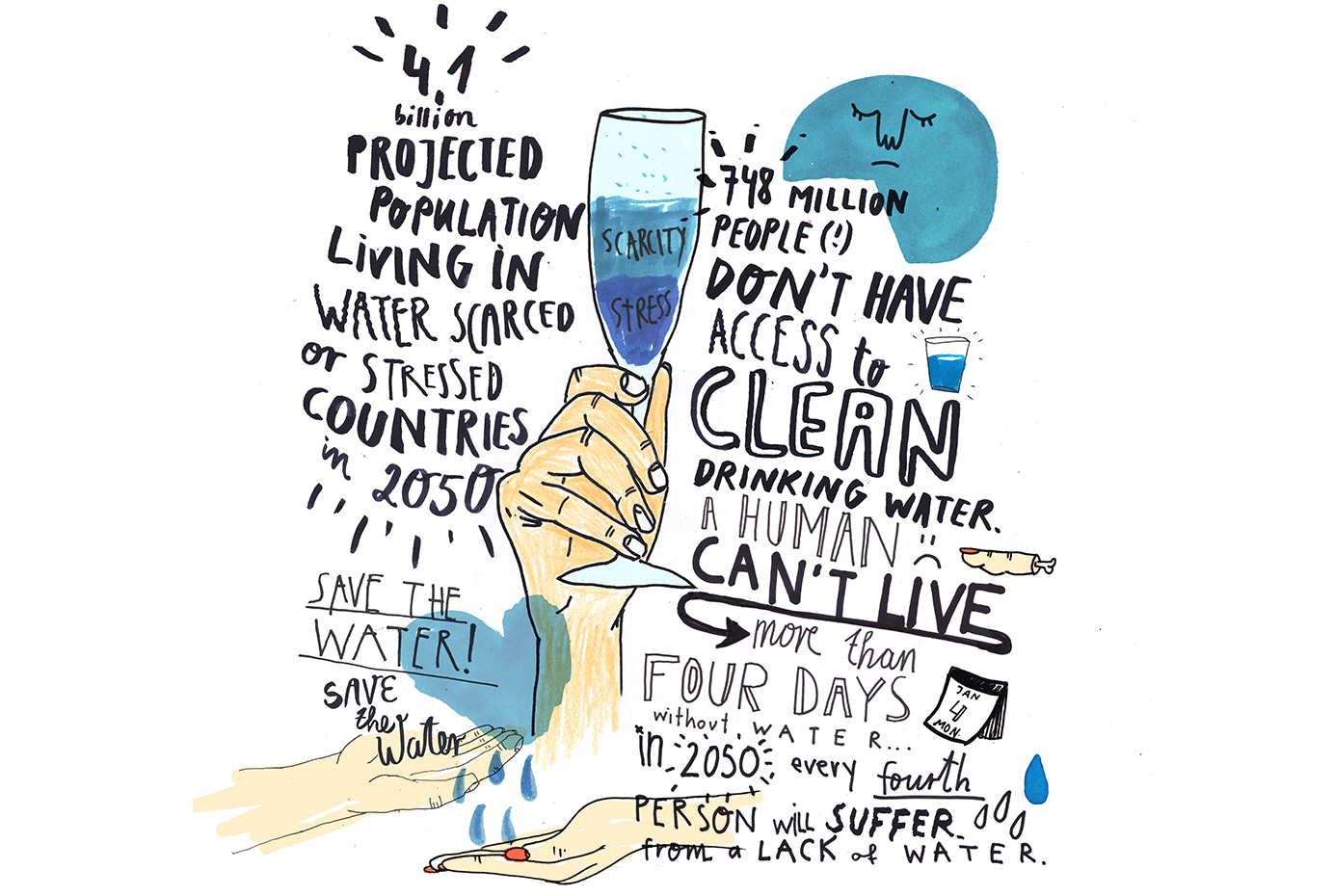 The 56-year-old proved this in his home state of Rajasthan where at one time many regions were parched. But the use of rainwater storage tanks allowed the groundwater to regenerate. He got seven dried-up rivers to start flowing again. "Many people returned happily to their villages," he says proudly. "Water is the source of life, the path to prosperity. Water is dignity."
Groundwater in China heavily polluted
Groundwater is a basic human right. Unfortunately, the international community is still very far from attaining this United Nations (UN) goal: 748 million people have no access to clean drinking water, and around one-third have neither a toilet nor a latrine. In many places, wastewater flows untreated into rivers, lakes, and oceans or seeps into the soil unchecked. Around 60 percent of the groundwater in China, the world's most populous country, is heavily polluted with industrial waste, fertilizer, and household garbage. In Asia, nearly half of all river kilometers are soiled with excrement, the UFZ reports. A sustainable water supply and sewage disposal are key factors for prosperity, warns Stefan Uhlenbrook, coordinator of the UN's World Water Assessment Programme. Every million US dollars invested in the water sector creates 12 to 20 jobs in the United States and as many as around 100 jobs in Latin America — throughout all economic sectors. According to findings in the UN's World Water Development Report 2016, three out of every four jobs depend on water. "Water is a resource that for too long was viewed as freely available and underestimated as a growth factor," explains Uhlenbrook. "Sustainable investments pay off — for the economy, society, and the environment." <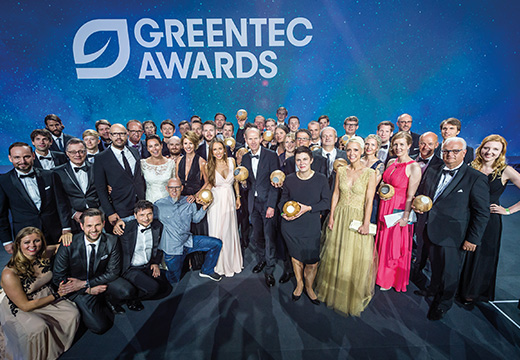 Promoting sustainability
The Galileo Wissenspreis award is regularly presented by ProSieben to honor inventions and ideas that promote a sustainable and environmentally friendly lifestyle. In 2016, the prize was won by Kiezkaufhaus, an online shop for local stores offering a cargo bike service
The Galileo Wissenspreis is conferred annually as part of the European environmental GreenTec Awards launched by engineers Marco Voigt and Sven Krüger in 2008. The aim of the GreenTec Awards is to shine a light on ecological innovations by recognizing winners in the categories of Automobility, Construction & Homes, Recycling & Resources, and Water & Sewage. In 2016, ProSieben/Galileo and the World Wildlife Federation (WWF) introduced a special new award, the "WWF Galileo Green Youngster Award."