Stars of Tomorrow
Stefan Gärtner, Senior Vice President German Fiction, Coproduction & Film Policy at ProSiebenSat.1 TV Deutschland, talks about the broadcasting Group's efforts to promote young talent.
Germany has a number of prestigious awards for fledgling talent. Why has ProSiebenSat.1 also decided to support young filmmakers?
Stefan Gärtner: Many of the awards are devoted to art house formats or public TV. We recognized the need for additional options to filmmakers who want to try their hand at mainstream material. This is why we have entered into special partnerships with the Baden-Württemberg Film Academy and the University of Television and Film in Munich. Within the scope of the Young Lions program, for instance, we foster young talent at the Baden-Württemberg Film Academy by providing expertise, funding, and airtime. Born of a collaboration between ProSiebenSat.1 TV Deutschland and the University of Television and Film Munich, the mainstream award honors the best ideas for a TV movie.
What approach do you take in fostering up-and-coming talent?
Gärtner: Experimentation of all kinds needs to be part of a university education. Our offerings aim to introduce professional practices from an early stage. In other words, students receive a standard TV movie budget for their debut project — something that, as far as I know, is unique in Germany. The funds come with the proviso that the student filmmaker take a professional approach, developing and producing the project with a potential SAT.1 audience in mind.
» FILMMAKERS SHOULD DO WHAT THEY'RE PASSIONATE ABOUT«
How bold are novice filmmakers allowed to be when it's ultimately about pleasing a mass audience?
Gärtner: They should be trying to find their own voice while still studying. That means doing whatever they're passionate about. The important thing is that their first full-length film be a testimony to their capabilities, if they haven't already established them by that point. Quality is paramount because ultimately it wins the day. Director Baran bo Odar, for example, created his box office hit Who am I on the back of his film The Silence. Although the two movies share little thematic DNA, The Silence convinced us of his directorial abilities. For young filmmakers, it pays to follow through on an idea they believe in.
What kind of material do you look for?
Gärtner: The springboard is always a story the filmmaker feels compelled to tell. On top of that, we look for narrative formats that are accessible to a broader audience. Genre and subject can largely be freely chosen. The SAT.1 TV movie The Disobedient Woman is a good example: domestic violence in a marriage is no lightweight topic. But framed as a thriller with a heroine in the lead role, it was a great fit for us. A Head Full of Honey, the feature film we co-produced that's anything but a conventional Alzheimer's story, is another case in point. In each instance, the filmmakers succeeded in reaching an audience that might not otherwise grapple with the subject and drove their message home to powerful effect.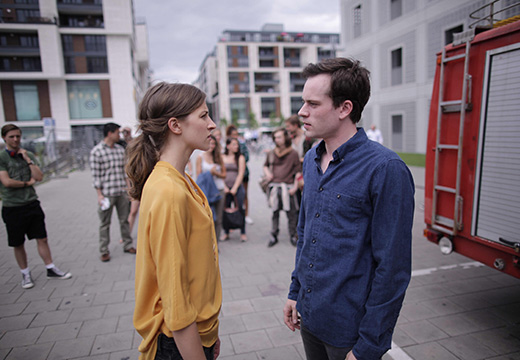 Stars of tomorrow
Collaborating with film schools to promote young talent
ProSiebenSat.1 is committed to a host of projects and initiatives that promote up-and-coming filmmakers in German-speaking countries. Within the scope of these activities, young talent is given the opportunity to work on exceptional material and projects. The Group supports these endeavors by providing expertise, funding, and airtime. Among other initiatives, ProSiebenSat.1 has endowed the Series chair at the Baden-Württemberg Film Academy, under which students have benefited from regular classes since 2006. Plus, SAT.1 will air the movie Undercover küsst man nicht by graduate filmmaker Jan Haering in 2016.
Thomas Schadt, managing director of the Baden-Württemberg Film Academy, emphasizes how important the collaboration is for young talent: "This cooperation is immensely beneficial to all our students who are interested in genre-specific and mainstream work." What's more, ProSiebenSat.1 honors the Academy's top students with Young Lions awards. The broadcasting Group supports a total of seven institutions, including the Bavarian Television Academy (BAF) and the Hamburg Media School. For six years now, ProSiebenSat.1 has also cooperated with the University of Television and Film Munich in recognizing the best concepts for a TV movie with the mainstream award.