UKIMWI
The "startsocial" competition provides funding and expertise to social initiatives. Jambo Bukoba is just such a project. It builds Tanzanian children's self-confidence through sports, while educating them about health issues.
"UKIMWI" is emblazoned in large letters across the dusty playing field in Bukoba, Tanzania. In Swahili, ukimwi means AIDS. The elementary school kids have shaped the letters out of small wooden sticks. Two teams compete against each other, much like in a relay race. The team that completes the word first wins. Now that the disease is written plain for all to see, it's easier to talk about it — how the virus spreads and how people can protect themselves from infection. The game is part of a sports meet for schoolchildren in northwestern Tanzania organized annually by the Jambo Bukoba association in Munich, Germany. Over 1,000 people — school kids, teachers, parents, and government officials — have gathered in the stadium by Lake Victoria. It's a hot day but a fresh breeze wafts over the stands from the lake.
HIV infections in Tanzania
1.4 MIO
people in Tanzania are infected with HIV
3 out of 5
newly infected people in the Kagera region are between the ages of 15 and 24
Source: UNAIDS Gap Report 2014
Sitting among the spectators is Jambo Bukoba founder Clemens Mulokozi. Although Mulokozi lives in Munich, he traveled to Tanzania once again this year for the meet. He wholeheartedly cheers the young athletes on, but has bigger things in mind for them: "We want to teach the children about AIDS and boost their self-confidence. Sports is a great way to achieve that." After all, education, health, and gender equality are Jambo Bukoba's primary goals.
Bukoba is located in Kagera Region, where the prevalence of HIV/AIDS was among the highest in the country for a long time. Three out of five newly infected people are between the ages of 15 and 24 — and four out of five in this demographic group are girls. Pregnancies, HIV infections, and being married off young result in many of them dropping out of the education system while still at elementary school. Many young people are illiterate. The fact that AIDS is a taboo subject makes spreading awareness all the more difficult. "At some point, I realized how limited the prospects for these children are and I knew that I had to do something," explains Mulokozi.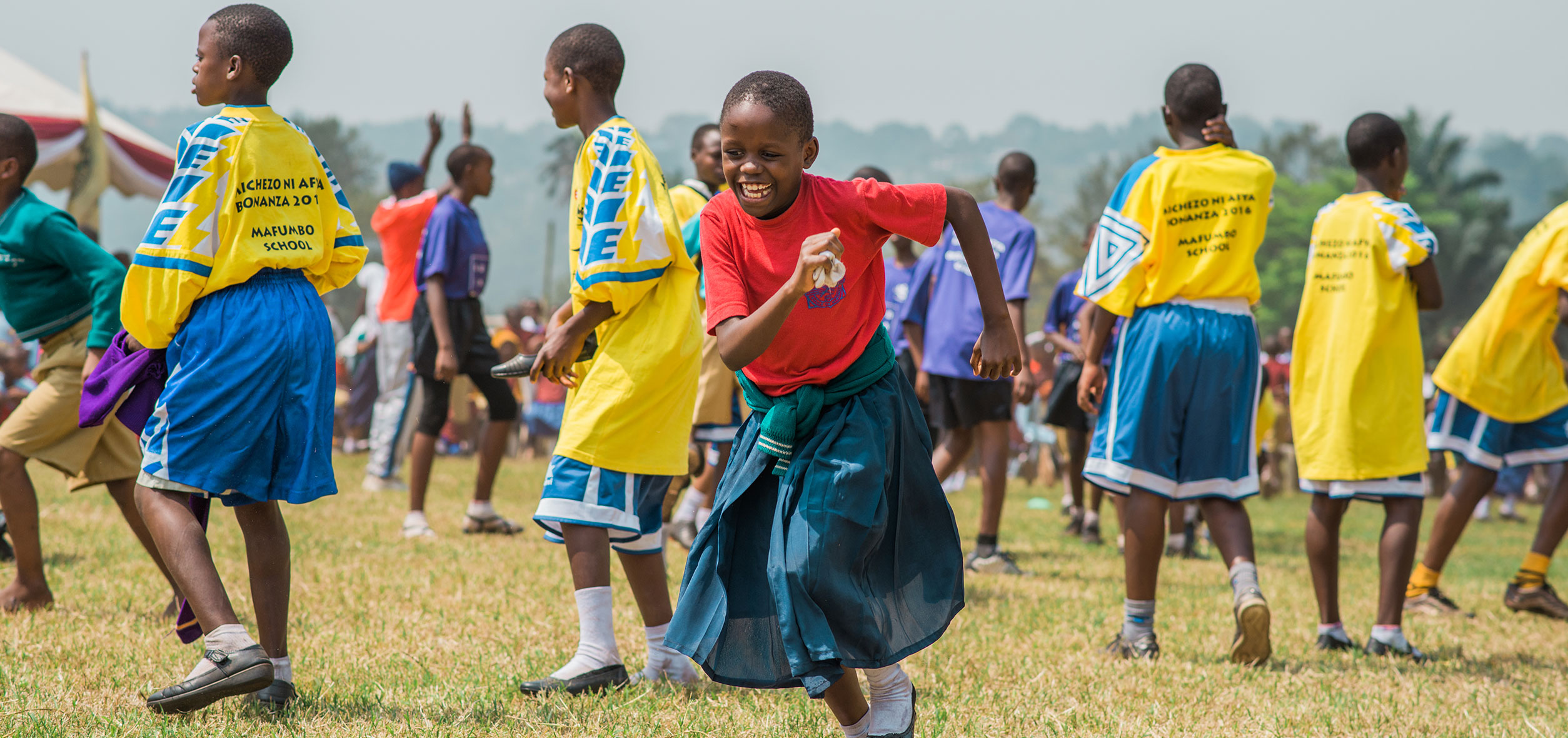 Education, health, and gender equality improve the children's quality of life
Clemens Mulokozi's father was born in Kagera Region, while his mother is a native of Germany's Allgäu region. In the 1960s, the couple met in Munich, where Mulokozi senior was studying chemistry. As a child, Clemens lived and attended school in Tanzania until he was twelve, when his mother returned to Germany with him and his sister. When the 51-year-old looks back on his life in Tanzania, his memories are mostly of his grandparents, how he would run around barefoot, fresh mangoes for breakfast, monkeys in the trees — but also the corporal punishment at school. Back then, he was not so much aware of the other challenges the country faced. "I first started to focus on the problems in my father's homeland in 2006."
At some point, I realized how limited the prospects for these children are and I knew I had to do something.
Clemens Mulokozi
That was the year his father died in Bukoba. Clemens flew to Tanzania for the funeral. "During that visit, I first came face to face with the many social ills that had passed me by as a child," he recalls. The AIDS problem naturally became apparent, but so did education issues. Some schools still used the same textbooks as in his father's day. He was especially struck by how disadvantaged girls were. "Ninety-nine percent of the time, they're the ones who have to collect water and help with the housework. Between doing the washing and cooking, there's precious little time left for studying."
ILLITERACY IN TANZANIA
98%
of Tanzanian children are enrolled in school
69.4%
can read and write
Source: Federal Foreign Office
Empowering women and girls creates lasting change
After his father's funeral, Clemens, who has a degree in communications, initially returned to his life in Munich, where he had been working on the sports sponsorship program at a bank. Yet he was gripped by what he had seen in Tanzania. "Eventually, I asked myself what really mattered to me." The answer changed his life. "I wanted to give children and young people in my father's homeland a better chance in life." A father himself, Clemens Mulokozi decided to set up an association that would merge social engagement with sports. "Sports is universal. Give kids a ball and they share a common language." Mulokozi keeps physically fit as a marathon runner, although he admits with a laugh, "not an especially good one."
Two years later, in November 2008, he flew back to Tanzania, fired up and ready to leap into action. In the interim, he had been working hard on his concept to combine sports and education. Right from the outset, he knew that it would be no easy feat — especially as sports had not been taken very seriously in Tanzania in the past. "Sports are a luxury," he had often heard said. "What I desperately needed was a contact at the Ministry for Health, Education, Sports, and Family in Bukoba, someone who would be able to coordinate the project on the ground and, for instance, advise us on customs matters and tax issues. Luckily, I managed to get the officials excited about my ideas," he says.
I never wanted to be the affluent german who throws money and sports equipment around. It's important to me that our activities are based on genuine partnerships.
Clemens Mulokozi
Team players Clemens Mulokozi and Martin Emele. The Managing Director of ProSiebenSat.1 Production stepped up to lend his expertise to Jambo Bukoba as a coach.

Specially developed games boost self-confidence and remove the taboo surrounding AIDS.

Competing at a major sports meet for a coveted prize: renovation of classrooms and sanitary facilities as well as all-new furniture for the winning schools.
Once he got the green light, he returned to Munich and threw himself into the project. "Initially, I spent a lot of time working at night and over the weekends together with a handful of active members and volunteers." Today, he has over 50 colleagues in Germany who freely give of their time and energy, alongside two paid employees in Bukoba. In October 2014, Clemens Mulokozi left his job at the bank and has since worked for the association in a voluntary capacity. With a family to consider, that wasn't always easy. But things will be simpler going forward. Starting in 2017, the founder will receive a subsistence allowance from Ashoka, a nonprofit organization that supports social entrepreneurs. For the next three years, his finances will be taken care of so he can fully focus on his project. His courage and tenacity are finally paying off and the association has reached some important milestones: "Many schoolchildren first dealt with the fact of AIDS through Jambo Bukoba. What's more, teachers report that grades have improved and truancy has decreased thanks to our program." Jambo Bukoba relies on teachers as facilitators. To this end, the association regularly holds workshops that introduce educators to special games combining sports with sex education and gender equality. "After the workshops, we supply the schools with the necessary equipment, such as balls and soccer jerseys. The teachers are tasked with incorporating the games into the school routine."
Jambo Bukoba
The initiative already has an impressive track record: By the end of 2015, some 1,200 teachers from around 1,000 schools had participated in the Jambo Bukoba workshops and learned how to combine sports with sex education and gender equality. These educators have access to some 95 percent of all elementary schoolchildren in Tanzania's East African Kagera Region. The association has donated over 6,500 sets of sports equipment to schools in Kagera. Mulokozi and his colleagues now aim to expand and fine-tune the concept — first around Lake Victoria and then throughout Tanzania.
And once a year, a major sports meet takes place. This pits the region's winning schools against each other. Developed by Jambo Bukoba, the various disciplines include the stick relay and soccer matches involving mixed teams. "We create situations that help girls gain confidence and boys dispel their preconceptions," says Mulokozi assuredly. At the end of the competition, the winning schools are awarded a coveted prize: "We renovate classrooms, teachers' rooms, and sanitary facilities as well as giving the schools new furniture." Jambo Bukoba always makes sure to involve the community in the upgrades so that everyone plays a part. "I never wanted to be the affluent German who throws money and sports equipment around. It's important to me that our activities are based on genuine partnerships."
I have no doubt that Jambo Bukoba will make a difference in many more ways.
Martin Emele
When Clemens sits in the stands cheering on the competing kids, he sometimes thinks of the U.S. President: "Lake Victoria, on the Kenyan side, is also where Barack Obama's roots lie. I look at the kids in Bukoba, thinking there might be future leaders of nations among them. The potential is there. Now we want to ensure that the opportunities for development are, too."<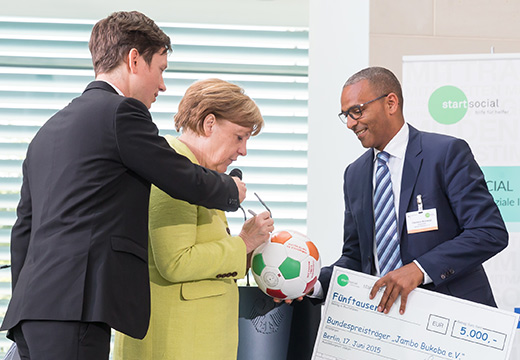 startsocial
The jury of the 2015 Germany-wide startsocial competition regarded Clemens Mulokozi's Jambo Bukoba initiative as a standout entry. As part of the competition, founders of social projects receive input from expert consultants from the world of business, the public sector, or social institutions. After three months of coaching, a jury selects the 25 best projects from a total of 100. Seven are singled out for an award from German Chancellor Angela Merkel. Mulokozi was among the national winners in 2015. The ProSiebenSat.1 Group co-founded startsocial in 2001 and continues to back the competition. Dedicated employees support numerous startsocial projects as coaches or have served as jurors. Among them is Martin Emele, Managing Director at ProSiebenSat.1 Produktion, who stepped up to lend his expertise to Jambo Bukoba as a coach. Emele has nothing but admiration for Mulokozi and his project: "The association is already a very professional outfit, which is why I advised Clemens chiefly on his expansion plans. I have no doubt that Jambo Bukoba will make a difference in many more ways."