Heroes Like Us
The "Junge Helden," or "Young Heroes", raise awareness for organ donation — supported by a raft of celebrity helpers. "The decision makes the difference" is the motto the nonprofit uses to motivate people in the prime of life to think about death.
There are some topics you don't normally mention in the same breath: clubbing and organ donation, for example. But that doesn't apply to the Young Heroes. They take their message to clubs, schools, sports events — wherever young people gather to live their lives to the fullest.
The parties are legendary, not to mention star-studded. German TV personalities Jürgen Vogel and Joko Winterscheidt are welcoming the guests, handing them flyers and organ donor cards. TV host Johanna Klum and actor Florian Lukas are behind the bar mixing drinks while the Berlin band Beatsteaks deejay. All of them are committed supporters of the cause, many since its very beginning. "At the 'club full of heroes,' it's all about having a good time together and taking away an awareness of the need for organ donation," says Angela Ipach, who heads the nonprofit her sister Claudia Kotter founded in 2003.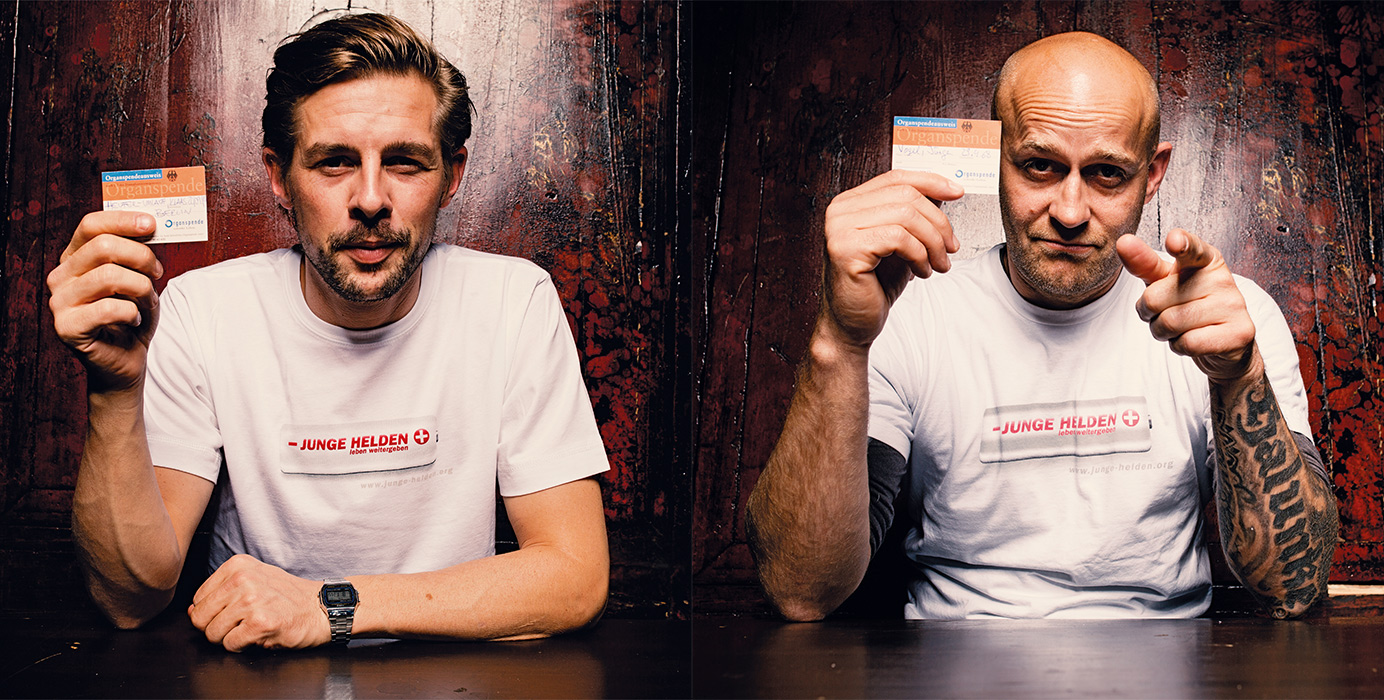 The association aims to raise awareness among young people in a non-judgmental way
Young Hero describes Claudia Kotter to a tee. She suffered from the rare autoimmune disease scleroderma, which causes organs and connective tissue to harden. When she was just 20 years old, the disease affected her lungs, so she needed a transplant urgently. In the end, it took four long years before she finally received a new organ. But she never lost heart. Working with her family and friends, she launched the Young Heroes as her very personal way of sparking debate about organ donation. Pursuing her mission without proselytizing, she approached her project with enjoyment, her incredible powers of persuasion, and a zest for life. "She was a love letter to life itself," Angela Ipach says of her sister. Her credo, "Always give it a shot," helped her lead a very active and intense life despite her illness. "It was Claudia who taught me that organ donation is more about life than death," says TV host Klaas Heufer-Umlauf, a longtime supporter of the association. Still, both sides of the coin are always present, as symbolized by the organization's logo: a battery with positive and negative poles.
Claudia Kotter lived with the donor organ for four years — time she dedicated to spreading the word about her cause. In the end, it was her heart that gave out. She died in June 2011, at the age of 30. Now her sister carries on her work along with a core team of seven members, who cover the major regions in Germany. They are supported by another 40 or so volunteers, performing tasks such as reaching out to initiate dialog with students and teachers.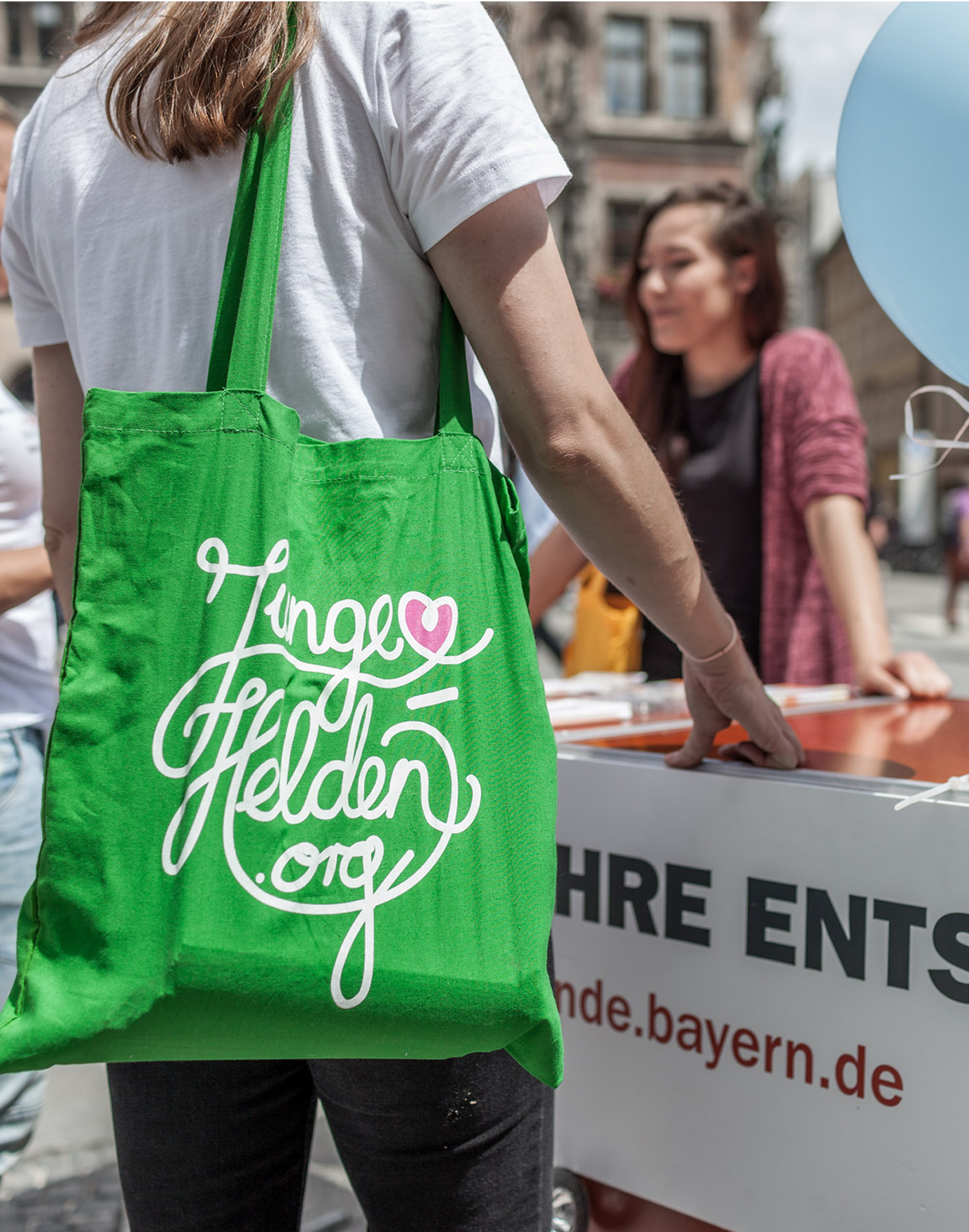 »ANYONE WHO FACES THE FACT OF DEATH AND TAKES THE TIME TO MAKE A PERSONAL CHOICE IS A HERO.«
Angela Ipach
They all share the goal of getting young people to take a stand on organ donation. According to Ipach, "The most important thing is getting a card." She feels that anyone who faces the fact of death and takes the time to make a personal choice is a hero. "Even if you've checked 'no' on the donor card," she adds, because that takes the burden of making a tough decision off your loved ones.
Many people want to help but not enough have a donor card
The latest survey by the Federal Centre for Health Education in Germany demonstrates just how crucial this is: While four out of five Germans voice a positive opinion about organ donation, only a third actually have a card. "The discrepancy proves that a big amount of persuading is still needed," German Federal Minister of Health Hermann Gröhe says.
EVERY DONATION COUNTS
10,000
people are wainting for a life-saving organ transplant
877
organ donors in Germany in 2015
81
percent of the Germans are basically willing to donate organs
32
percent have an organ donor card
Source: DSO (Status: April 2016), Eurotransplant (Status: March 2016), BZgA (Status: June 2016)
Raising awareness is also the aim of the movie Entscheidend ist die Entscheidung (The Decision Makes the Difference). Two years in the making, it premiered at the CinemaxX Berlin in late June 2015. The film provides information about organ donation in Germany in authentic silver-screen style. Winterscheidt and Heufer-Umlauf narrate alongside actors Jürgen Vogel and Fahri Yardim. Years ago, Vogel met Claudia Kotter for the first time when he bumped into her at Berlin's Café Einstein and stopped to chat. She made the most of the encounter and sent him a very personal letter to which he reacted promptly, becoming a Young Hero and later a close friend. The actor is also personally affected, having saved his sister's life with a marrow donation.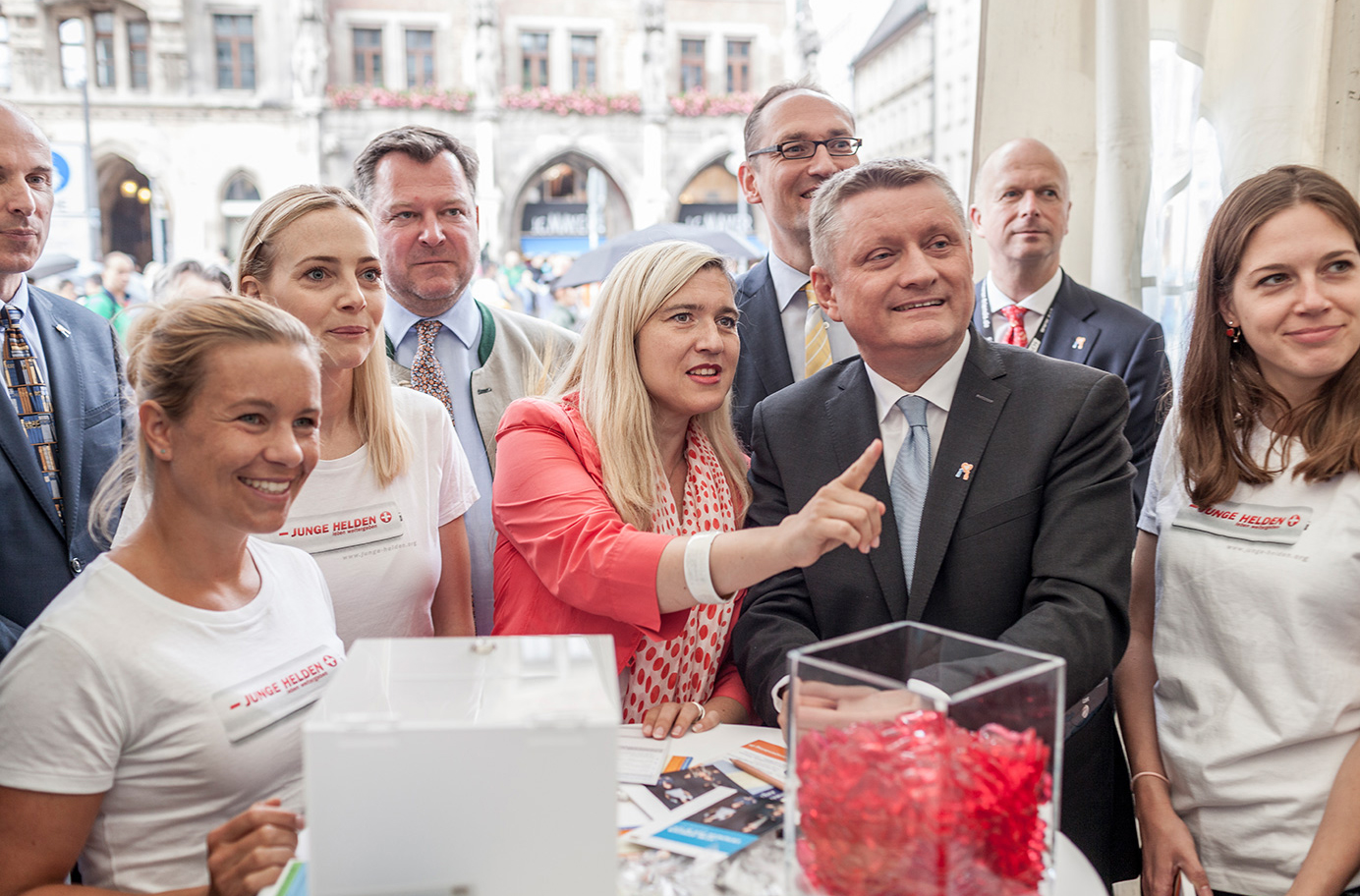 The educational film is now also available on DVD, so schools and other institutions can use it. SAT.1 showed clips from the movie on an organ-donation theme day where the Young Heroes teamed up with the German Federal Ministry of Health. The theme day event kicked off with the SAT.1 drama Zwei Leben. Eine Hoffnung. (Two Lives. One Hope.). Lead actress Annette Frier is pleased that the film has turned a stronger spotlight on transplants and the growing number of donors: "I've talked about organ donation with friends and acquaintances, and what I've learned is that there is a huge information gap out there. It's good that we made this movie." And it had quite an impact: On the day it aired, the German Organ Transplantation Foundation and its organ donation hotline logged nearly twice their usual number of calls. As for Frier, she has made her decision: "Donating organs is a very personal choice that everyone has to make on their own. But for me, it's a resounding 'yes'!"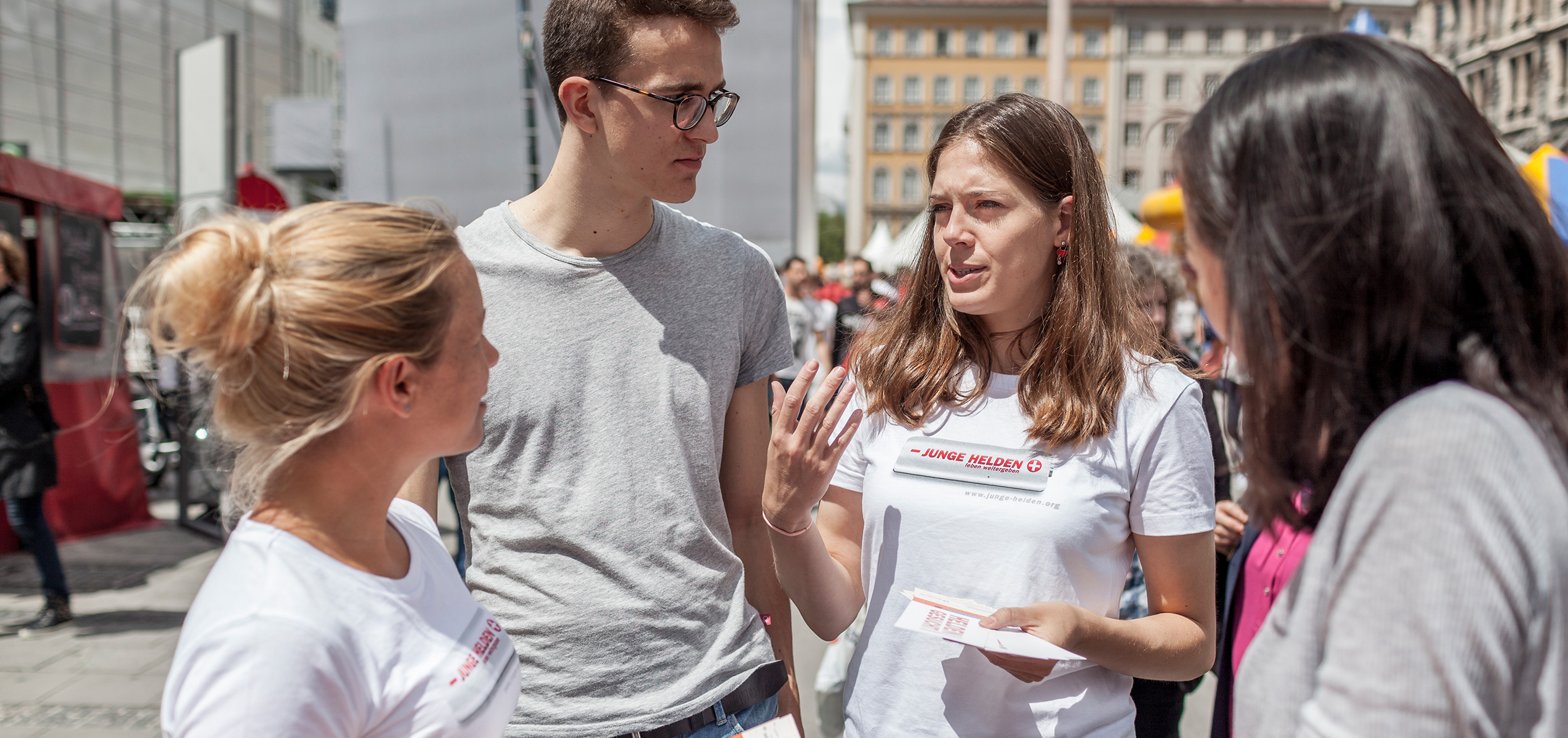 Some 25,000 organ donor cards are issued annually by the Young Heroes. They stage an average of two initiatives each month, such as in June on the nationwide Organ Donation Day held at Munich's Marienplatz, which was also promoted by SAT.1. The nonprofit's future plans include better networking, greater collaboration with other organizations, and more appearances promoting donation along with governmental organizations such as the State Center for Health Promotion in Rhineland-Palatinate and Bavaria's Alliance for Organ Donation. The Young Heroes have already racked up over 10,000 likes from Facebook fans. Among them was actress, producer, and author Charlotte Roche, who recently went on her own heroic mission and had the front of a donor card tattooed on her lower arm along with the association's logo. Organ donation is an issue that gets under your skin. <
The decision makes the difference
Angela Ipach and a seven-member team run the Young Heroes, the nonprofit her sister Claudia Kotter founded in 2003. Their goal is to educate about organ donation and raise awareness, especially among the younger generation. Not attempting to talk people into becoming donors, the group considers anyone a hero who faces up to the fact of death and takes the time to make a personal choice.
They take their education efforts out into the real world, organizing parties, debating at schools, and even shooting a short, upbeat film with German TV stars Joko & Klaas, as the duo is best known.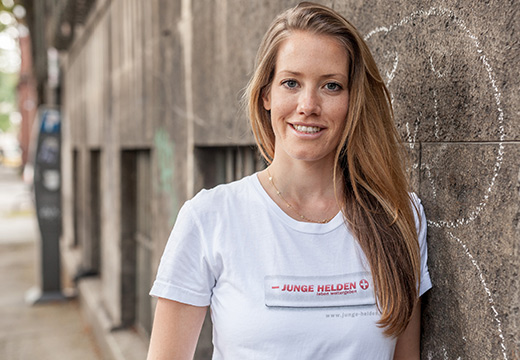 Generating publicity
SAT.1 declared March 8, 2016 its organ donation theme day — and partnered with the Young Heroes, the German Federal Ministry of Health, and the German Organ Transplantation Foundation (DSO).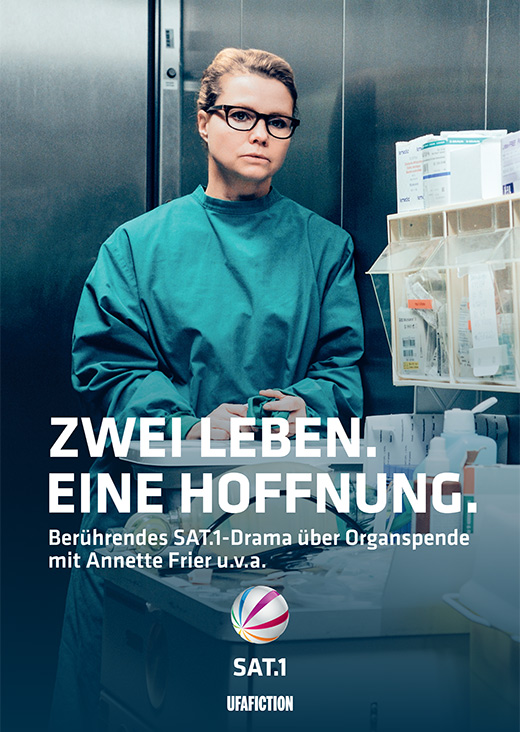 In the prize-winning SAT.1 drama Zwei Leben. Eine Hoffnung. Annette Frier plays a transplant surgeon fighting to save the lives of two young patients who are waiting for donor livers. When potentially fatal complications arise during an operation, serious decisions have to be made. In the end, one young sufferer goes back on the waiting list. Just like 10,000 sick people in real life. The desperate need for donor organs is examined in depth in the event documentary Bei Anruf Herz (Dial H for Heart). "The primary aim of the theme day was getting viewers to recognize their obligation to take a stand," SAT.1 Managing Director Kaspar Pflüger says. Mission accomplished: On the air date, the German Organ Transplantation Foundation and its organ donation hotline logged 96 percent more calls than on the same day a week earlier, as German Federal Minister of Health Hermann Gröhe emphasized in a thank-you letter. On the nationwide Organ Donation Day, moviegoers could watch Zwei Leben. Eine Hoffnung. for free in theaters. And Gröhe joined Frier and SAT.1 at Munich's Marienplatz to promote organ donation. Gröhe is positive that "the film is a moving way to generate publicity for this important issue."